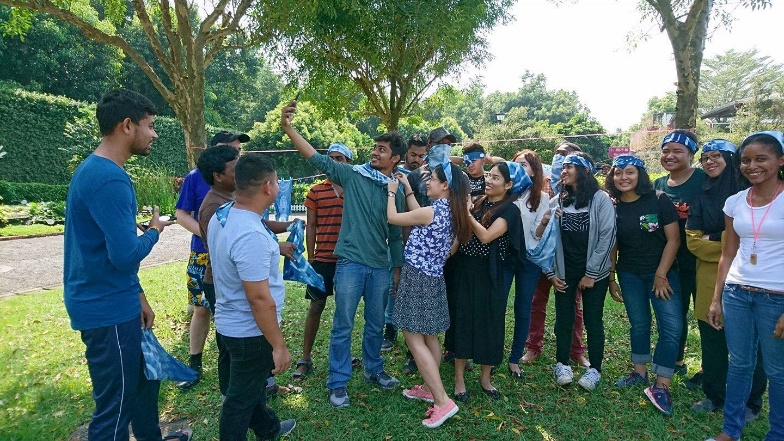 The purpose of the center is to establish a good Chinese learning environment, promote Chinese learning, spread the Chinese traditions and Taiwanese local culture, and eventually enhance the international cultural exchanges.  Chinese learning has become a trend all over the world nowadays. Our school recruits many foreign students every year.  More than 500 foreign students have been recruited so far.  Our overseas sister schools also send students to our university every year for culture exchange.
In view of the strong demand of foreign students for Chinese learning, Tai-yuan University, our sister school in Vietnam, signed a 4+1 dual degree program with us in 2009 and planned to send students to Taiwan to study Chinese and distribute them to various departments.  Therefore, in July 23, 2009, approved by the 133rd Executive Council meeting, we then established the "Mandarin Class for Vietnam students".  There were 5 students in the first "Mandarin Class for Vietnam students", and all of them perform well in the class and achieved excellent results in the TOP Chinese Proficiency Test held in May 2010.  After the course, we assist students to apply for their desired departments in our university.  Moreover, to improve the Chinese ability of foreign students in our university, a Chinese intensive class was opened for foreign students in the summer of 2010, which was widely accepted and praised by students.
Approved by the 44th school meeting on September 27, 2010, the center officially became a teaching unit in the school and was incorporated into the school's constitution.  In February 2011, it was merged into the structure of the newly established International College.  Professor Pei, Jia-qi, Dean of the International College, also served as the director of the center.  He led the center to pass the evaluation of the Ministry of Education in May, 2010, and we became a Chinese Language Center affiliated with a national university.
Our center provides a variety of courses. The regular courses include semester classes, Instructional Excellence projects, and winter /summer intensive courses.  Since 2012, we have been actively assisting foreign students to pass the TOCFL test with good results.  In May 2012, 9 students took the listening and reading test, 6 passed L2 (basic level), one passed L3 (advanced level), and one passed L4 (advanced level).  5 students also applied for the L2 writing test at the same time, and 4 passed. In November 2012, 3 students applied for the L2 listening and reading test, and all of them passed.
Our center also hosts international cultural delegation trips or Mandarin training programs for certain professional groups or directly undertakes Mandarin training camps, such as "2012 Mandarin Camp for Malaysian Aquaculture Class", "2012 Mandarin Class for Indonesia Technical and Vocational Training Program", "Rhein- Taipei Chinese School – 2012 Pingtung University of Science and Technology International Youth Chinese Language Camp", etc. 
In the future, the center will make use of its abundant resources, and continuously assist our students to possess excellent Chinese skills, not only in listening, speaking, reading, and writing, but also get to know the local culture with their excellent Chinese ability.